Physiotherapy has long played an important role in maximising independence and optimising mobility. At the beginning of the pandemic, leading physiotherapists expressed concern that stay-at-home orders would lead to a significant decrease in physical activity and that this might result in higher instances of falls and decreased physical function in older Australians.
These concerns reflect a broader need for all of us to stay active but was a particularly important message for vulnerable community members at risk of exacerbation of chronic health conditions that could result in hospitalisation or social isolation. More than two years into the COVID-19 pandemic, as we adjust to the 'new normal' of COVID-19 being active in the community, it is important to remember the many health benefits of continuing your therapy services, and how physiotherapists are working to ensure every client's safety while avoiding interruption to service delivery.
Physiotherapy and your wellbeing during the COVID-19 pandemic
Physiotherapists work with their clients to help improve muscle strength, increase mobility, reduce pain, and shorten recovery times. Ther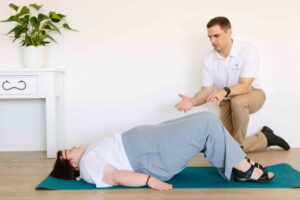 e is also growing evidence of the link between physical activity and mental health. Further, physiotherapists around the world are contributing valuable skills in helping COVID-19 patients recover from the effects of the illness. You can find out more about physiotherapy and how physiotherapists work on our website.
Staying active for physical health
While we are waiting inside the safety of our homes for the pandemic to pass, our bodies are also adjusting to the new normal. Our muscles lose strength, joints are less flexible and balance systems reduce their acuity. Eventually the idea of walking around the shops, visiting friends and family who live up a flight of stairs, or attending our local friendship group becomes such a big physical and mental effort many people find it easier not to start again. This is especially important for older Australians for whom, when it comes to exercise experts say the motto is 'use it or lose it'
Importantly, research shows that decreased exercise in older Australians leads to a loss of functional capacity and an increased risk of falls. In 2021, Queensland Health reported that every day 133 Queenslanders have a fall requiring medical attention. This has effects on independence, access to the community and quality of life. Furthermore, the reality is, many falls are actually preventable.
Staying active for mental health
Maintaining your physiotherapy exercise or rehabilitation program is also important to your mental wellbeing. Research shows that physical activity has a positive impact on a person's mental health. Exercise stimulates chemicals in the brain such as serotonin and endorphins that improve your mood as well as those parts of the brain that are responsible for memory and learning.
Furthermore, experts say there is a strong link between physical health and mental wellbeing. For example, evidence suggests that a person with Multiple Sclerosis or Parkinson's disease is at increased risk of developing depression. The role physiotherapists play in the management of physical symptoms can assist in maintaining a positive mindset and improving overall mental and emotional wellbeing.
How physiotherapists can help you stay physically and mentally healthy
Exercise program
Your physiotherapist can work with you to develop a physiotherapy program that will give you safe ways to exercise at home. They can help you continue with your exercise program either in person or via telehealth. An exercise program may include a variety of elements such as strengthening, mobilising, stretching and aerobic exercises to help with physical rehabilitation and development.
Physical therapy
For specific conditions, physios can develop therapy and rehabilitation programs to aid with management or recovery. These interventions are designed to improve quality of life and can assist with outcomes like pain management and falls prevention. These are important interventions that should not be delayed.
Attitude matters
When it comes to staying active and improving or maintaining strength and functional abilities, being motivated to work toward your goals is greatly impacted by your attitude. Being able to discuss your concerns with a qualified health professional like your physio can help to alleviate fears and keep you motivated to achieve important goals.
Physiotherapy and COVID-19
Your physiotherapist is working hard to keep you safe when COVID-19 is active in the community
The health and safety of our staff and clients is of utmost important to us, and we have continued to implement strict Covid-safe protocols throughout the COVID-19 pandemic. We understand that there has been a great deal of uncertainty throughout the pandemic, and that when we see an increase of COVID-19 cases in the local community people may prefer to avoid their usual activities.
Alert and aware
Our leadership team monitors the COVID-19 situation in our local community and meets regularly to discuss the latest health advice and how we can best respond to the situation. As of January 2022, are clinicians are working from home to minimise interactions with each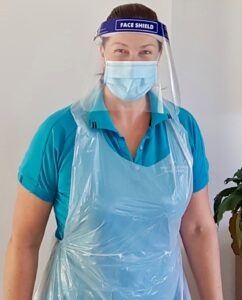 other. When staff do have to work onsite, they wear masks at all times and socially distance from each other. We also undertake regular cleaning and disinfecting of office and clinic areas.
Personal Protective Equipment (PPE)
Our clinicians use the appropriate PPE when conducting in-clinic and in-home consultations. This can include a face mask, face shield, gloves, and disposable aprons. This PPE is used to reduce the potential spread of infectious diseases such as COVID-19.
Telehealth
Our physiotherapists use telehealth technologies because of its potential to make service delivery more accessible and equitable. This is really important during COVID-19 outbreaks when some of our clients might feel hesitant about receiving in-person treatment. Our physiotherapists can develop telehealth-specific interventions to ensure you get the most out of your consultation and the research indicates that telehealth services result in equivalent outcomes to that of in-person care.
Importantly, a study conducted by the University of Melbourne found that clients undertaking physiotherapy consultations via telehealth reported positive experiences. The vast majority (over 90%) found the technology easy to use, were comfortable communicating, were satisfied with how their appointment was managed, and felt safe undertaking the prescribed exercises. Overall, 83% of participants found the consult to be effective.
We are here to help!
If you would like to know more about how you can safely begin or continue therapy services while COVID-19 is active in the community, please contact us to speak with one of client services coordinators who will help you explore your options. Your physiotherapist will work closely with you to deliver services in a way that if effective and safe, so that you feel comfortable and supported while achieving your goals.