Hosting an inclusive Christmas means recognising that everyone experiences Christmas differently. Every year the festive season can bring feelings of anticipation, excitement, and joy as we look forward to catching up with family and friends, taking a break from work, or heading off on holidays. However, it is important to remember that everyone's experience of the Christmas period will differ, and there are ways we can be accommodating to ensure our festive events are inclusive.
Christmas can come with challenges
For some people the thought of heading to the shops to buy presents, travelling to see loved ones, or attending group gatherings causes a significant amount of stress and anxiety. A holiday that is considered a time of connection and togetherness for some people, will bring up feelings of loneliness and isolation for others. Further, for people living with a disability, there are often additional considerations that arise when heading out to a festive event or gathering. Whether you are planning a work Christmas party, or Christmas Day celebrations with family and friends, it is important to consider factors like accessibility, environment, dietary requirements and sensory needs to ensure that any attendees with a disability aren't excluded from the fun.
Where to start when planning an inclusive Christmas
The first thing to consider when planning a festive event that includes people with a disability is to include them in the planning process. Having first-hand insight into what considerations will impact their experience of the event will help to ensure an inclusive experience for everyone. Another important thing to consider is the possibility that not everyone on your guest list may feel comfortable attending such an event. For someone with anxiety, depression, or a disability, the idea of participating in festive activities might be overwhelming, and they may instead opt to spend time alone, or in the comfort of their usual routine.
Beyond sorting the guest list, there are other factors to be considered in planning an inclusive Christmas.
Accessibility
Ensuring that your venue is accessible is an important factor in hosting an inclusive Christmas event. Factors like parking, building access, toilet access and the functionality of tables and chairs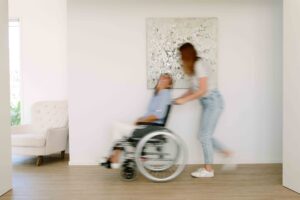 will impact the experience of guests with mobility issues. If you're planning an event outside the home – say, a work Christmas party – and hiring a space like a restaurant, then it is likely the venue meets certain accessibility standards (although it is still important to double check). However, if you're hosting an event at a private residence, it can be easy to overlook accessibility. Some of these questions may seem obvious, but they should be investigated prior to confirming a venue for your festive celebration:
Public transport – Is your venue accessible via public transport? You can check this using Google Maps accessibility feature which displays wheelchair accessible routes.
Parking – is there adequate parking close the venue entrance for guests with a disability?
Entry – is the venue's entry accessible? Is the doorway wide enough for wheelchair access? Are there ramps or a lift?
Doors and hallways – Is the venue's internal floorplan navigable for people with a disability?
Bathrooms – Is there a wheelchair accessible bathroom in the venue? Alternatively, if you are hosting a Christmas gathering at a private residence, have you considered factors like adequate space for a guest in a wheelchair to turn around in the bathroom?
Tables and chairs – Have you considered table height, is there adequate space underneath the table for a wheelchair. Is there space between tables to move freely?
Service animal access – If there is a guest attending with a service animal like a guide dog, have you accommodated for the dog's needs? I.e., it will need to be comfortable with convenient access to a space for toileting as well as access to water.
Atmosphere and environment
Creating an inclusive atmosphere for all your guests means considering factors like crowd size, noise, and lighting. Items on your checklist should include:
Sensory sensitivities – Do you have guests attending with a sensory sensitivity or disability (such as autism spectrum disorder)? Have you considered the impact of sensory factors like noise, light, or smell? You might need to give that pine scented candle a miss and skip the Christmas carols!
Anxiety – If you have a guest attending who struggles with anxiety, you will need to be considerate of crowd density, noise, and light to help avoid sensory overload.
Quiet places – Could you organise a 'quiet space' that will give your guests a place to go when they are feeling overwhelmed? This could be a separate room that is kept quiet, with gentle lighting and comfortable seating.
Wheelchair accessibility – If you are organising a standing event consider that if most of the crowd is standing and chatting while background music is playing, this creates an environment in which a person in a wheelchair may find it difficult to hear and thus join in the conversation. Can you incorporate pockets of seating into your event layout to encourage guests to sit as well as stand?
Seating allocation – Have you planned where your guests will be seated, accommodating for guests with hearing or sight impairments to be close to the front of the venue.
Dietary requirements
Guests with food allergies or sensitivities, or other dietary requirements can be catered for by checking in advance. Considerations include:
Food allergies and sensitivities – For those guests with serious allergies, inadvertently eating something that will elicit an allergic reaction poses a threat to their health and safety. Even guests with sensitivities may end up having an unpleasant experience if you don't check dietary requirements in advance.
Cutlery options – For a sit-down event, do you need to organise accessible cutlery? Alternatively, if you are thinking of hosting a standing event, i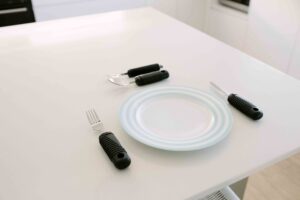 t might be easier to organise bite-size canapes so people don't need to juggle holding a plate and cutlery.
Sensory sensitivities – For people with sensory sensitivities, the texture of certain foods can often be a deterrent. Be mindful of this when planning your menu and accommodate any requests around texture to ensure your guests can enjoy their meals.
Other ways to ensure Christmas is inclusive
Check in on people – For some people, attending a Christmas event (whether that is a work party or even just Christmas day lunch at a friend's) is an overwhelming prospect. A person with anxiety, depression, or someone who has experienced loss may feel more comfortable spending the festive season alone or keeping up a regular routine that doesn't include social gatherings. Perhaps they would feel more comfortable with a one-on-one catch up in a location that is familiar to them. Even a phone call to let a friend know you are available if they need can help them to feel more included.
Christmas shopping – Can you help someone with their shopping? For people with a disability, attending crowded, noisy shopping centres can be overwhelming if not impossible. It may be helpful if you offer to head to the shops on their behalf, or even just accompany them to assist. Alternatively, you could research sensory hours where retailers provide low-stimulus shopping environments.
The suggestions in this article are by no means exhaustive, but they will give you opportunities for reflection to ensure your Christmas event is inclusive. If you are planning or hosting a festive event, the best place to start is by asking your invitees of any requirements they may have in terms of accessibility, environmental considerations, and dietary needs. If you do receive feedback in this regard, you can reach out to those with particular needs and invite them to participate in the planning process, or at the very least ensure their needs are met so that everyone is able to enjoy the event.
If you, or someone you care for would like to know more about how occupational therapy, physiotherapy or speech pathology can assist you in increasing your participation in society or improving your mobility please call us on 1300 729 190.