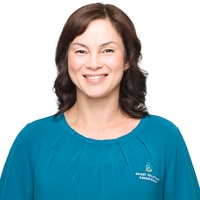 Client Services Coordinator
As part of the Service Coordination team, Karen works with clients, their families and other key representatives to help them access the services they need to reach their goals.
Karen appreciates the diverse lived experiences of SSRG clients, and is motivated to deliver excellent outcomes by the interesting and unique people she engages with as part of her role.
Karen holds a Bachelor of Arts majoring in Psychology and Criminology, and a Bachelor of Business (Public Relations).
Some of Karen's favourite pastimes include photography, cooking, going to the beach with her dogs, and getting stuck into a good book or podcast.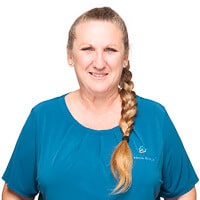 Client Services Coordinator
Pauline brings nearly two decades of administrative expertise to our Service Coordination team. With extensive experience working in the areas of medicine and allied health, Pauline is a proficient and strategic problem solver, which means she thrives on effectively organising our clinicians' busy calendars.
Skilled across all facets of Service Coordination, from managing client enquiries to scheduling clinician appointments, Pauline prioritises client experience; working to ensure our clients feel supported and cared for.
When not in the clinic, Pauline loves to spend time with her grandchildren.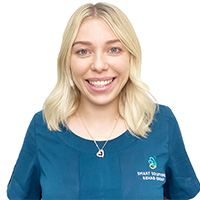 Lindsay is the smiling face behind our reception desk, and the friendly voice you will hear when you call SSRG. Lindsay provides support to our client services team and the practice manager, as well as looking after our clients when they call or visit us in clinic.
With over five years' experience in health service roles, Lindsay loves being able to develop a rapport with our clients, their families and carers, support coordinators, and other industry professionals.
Lindsay holds a Certificate III in Business Administration and a Certificate IV in Leadership and Management and enjoys continual learning and taking on new challenges.
When not in the office you will find Lindsay enjoying the company of her gorgeous dogs Kobe and Oreo.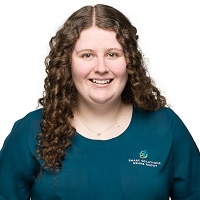 Georgia is our Senior Accounts Officer primarily responsible for invoicing across NDIS and Community. With a background in retail banking, Georgia thrives on numbers and sees speed and accuracy as her superpowers!
Having worked in finance her entire career, Georgia is methodical, focused and doesn't shy away from a challenge. When not busy crunching the numbers Georgia loves going to concerts or movies and spending time with her family.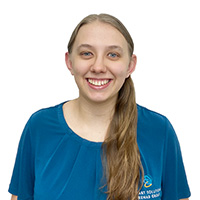 Kaitlin provides support to the accounts team part time while completing a Bachelor of Arts at university.
As an ancient history and philosophy major, Kaitlin enjoys applying herself to numbers and calculations as it provides an opportunity to use her brain in different ways to her studies.
A lover of thinking and writing, Kaitlin enjoys learning new things, and will often start her day by watching a YouTube clip on an interesting topic to kick her brain into gear.
In her spare time, Kaitlin enjoys reading comics and novels, watching cartoons, tv or movies, and playing computer games.